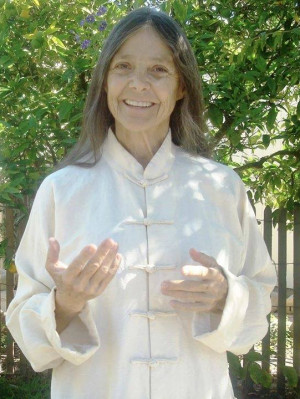 ---
Contact Info

Address:

Oak Park, Santa Barbara, CA 93105

Phone:

(805) Six-Three-Six 1888

Email:

Homepage:

Section:
---
I am dedicated to the proliferation of Taijiquan and Push Hands in the highest levels, teaching Yang, Hao and Dong/Tung Style since 1972. –Sifu Toni DeMoulin
Toni DeMoulin is a Taiji instructor who has been teaching and studying the arts of traditional Taijiquan since 1972. She studied and assisted in teaching with Master Tung Kai Ying from 1972 through September, 2002.
Since then she has been studying and assisting teaching with Master Alex Dong, nephew to TKY, grandson and student of Grandmaster Dong/Tung Hu Ling, great grandson of Grandmaster Dong/Tung Ying Jie. Toni has also attended workshops with Grandmaster William CC Chen, Don Miller, and Chris Luth.
Since 1976, Toni has owned and been the senior instructor of local classes in Santa Barbara. Her teaching passes down the traditional Yang long form (89, 108 however it is counted these says), the Wu/Hao long form, Dong family fast Form, Dong Style Fajing Form, Yang Broadsword, Dong Hu Ling Broadsword, Yang double edged Sword, Dong Hu Ling Double Sticks, Yang traditional Long Staff/Pole, Push Hands – stationary & moving, partner work and applications to generations of students. She does occasionally have students from other schools and styles come to Santa Barbara and study for two or three week intensives.
Toni regularly holds classes every day at 9:30 AM in Santa Barbara, CA 93105, under filtered shade outside on the Oak Park deck. Taiji is a great way to unwind the fast paced life and helps calm the busy mind of modern days. Please visit Toni DeMoulin for more information about her teachings, class schedules and other great resources of Taijiquan.
[flickr_set id="72157642399662855″ max_num_photos="50″]