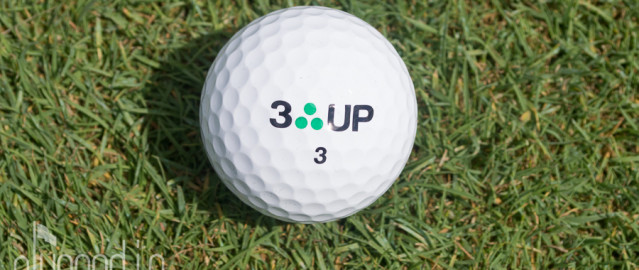 It's been a little over a year now since winding down our business, 3 Up Golf. We ran into legal troubles with a competitor which essentially ended with us closing up shop.
Viva the US legal system.
Lamenting our fate aside, there were some very important take-aways I'd like to share with the community at large.

Retail Is A Bear Unless you have significantly large enough margins to allow someone else to handle fulfillment, pick a new product area. Handling customer support, the holiday rush, and technical glitches will drive you absolutely crazy.
Email Isn't Dead Sure, social media is a fantastic way to grow the top-end of your lead funnel, but build that email list ASAP. We did this via attending local golf shows (your product/business line likely has some type of consumer trade show circuit). Do whatever you can to get passerby's to sign up for your list.
Make Your Email Worth Reading I receive too many promotional emails that go right into the spam folder. Why? Because I don't need to be pitched – I want information. Tell me something funny, relevant, or newsworthy. 80% of your email should be that type of content, the other 20% can be a sales pitch.
We received so many compliments on our monthly newsletter and our formula was simple.
*What's happening at the company & any relevant personal info (golf events I was playing in)
*The 4 latest pictures from our Instagram feed
*The excerpt and link to a relevant blog post from the last month
A coupon code for the big sale of the month
We received so many compliments on our monthly newsletter it's worth noting that formula. Don't just send out an email "20% off all our stuff – TODAY ONLY!". You'll get 20% unsubscribes with crap like that.
They aren't customers – they're people. Every person who ordered something from us got an email from me. I wrote THOUSANDS of email and kept in touch with people from all over the world. People really appreciated that fact. Was it really time consuming? You bet your apples it was. Was it worth it? Immeasurably so.
Packaging Matters If you're in retail, pay attention to your product presentation. Packaging does matter. Whether it's the box the product comes in, or simply jotting a personal "thank you" onto the invoice, little thing add up.
Don't be a business – be you 3 Up Golf wasn't some faceless business. I made sure to make it known it was a mom & pop operation. People root for the little guy. They want to see you succeed and a surprisingly large amount of folks out there will champion your cause.
Move On Although we had to ultimately shut down the retail operation, we still had a large social media following and mailing list. Why let that go to waste? Once an entrepreneur, always an entrepreneur. I pivoted the company and have since started up a new take on fantasy golf. I know not all of our previous customers will be interested, but it would be silly not to leverage all that work.
I hope that someone, somewhere, gets a little nugget of wisdom they can apply to their idea or business from this post-mortem. Best of luck to everyone out there and if you happen to be a fantasy golf nut, please check out my new endeavor – Golf Tradr.
Post by rob_zim