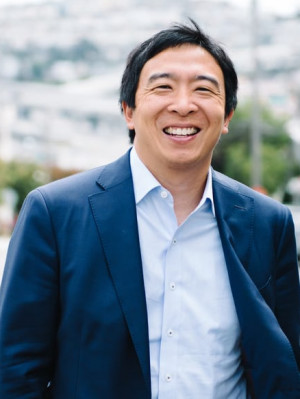 ---
---
Story
---
I'm Andrew Yang, and I was one of many Democratic presidential candidate in 2020. I ran for President because I fear for the future of our country.
Eight years ago, I had just sold my education company and married my wife, Evelyn. The country was struggling through the aftermath of the financial crisis, so I made it my mission to bring jobs back to the communities that were hit hardest. I saw firsthand how many of our children didn't see economic opportunity at home and were moving away to the same cities. That's why I founded Venture for America (VFA), an organization dedicated to rejuvenating local economies. By helping entrepreneurs create jobs in cities like Baltimore, Detroit, Pittsburgh, and Cleveland, we could create strong economies throughout the country and give children a reason to stay.
In its first year, VFA trained 40 Fellows; by 2017, more than 500 VFA Fellows and alumni had launched dozens of companies and helped create thousands of jobs across the country. The Obama White House even named me a Champion of Change in 2012 and a Presidential Ambassador for Global Entrepreneurship in 2015.
Despite the success I saw with VFA, as I worked in these cities, I came to a terrible realization: automation is destroying jobs, and entire regions are being left behind. For years, I believed new business formation was the answer—if we could train a new generation of entrepreneurs and create the right jobs in the right places, we could stop the downward spiral of growing income inequality, poverty, unemployment, and hopelessness.
I'm proud of the work I did at VFA. But during my time there, it became clear to me that job creation will not outpace the massive impending job loss due to automation. I was pouring water into a bathtub with a giant hole ripped in the bottom.
So I went to Washington, and I visited Congressional leaders. I presented them with the hard facts. 78% of Americans are living paycheck to paycheck, 40% cannot afford an unexpected $400 bill, and so many live one medical emergency away from bankruptcy. A wave of automation is coming that will displace even more American jobs. I asked, "What will our government do?" 
I was met with two ineffective answers: we need to study it further, and we must invest in job retraining programs. The truth is that we've already studied it extensively and know that up to 30% of jobs are at risk of automation, and government-run retraining programs have a success rate of between 0 and 15%. Washington was not going to help.
I'm not a career politician—I'm a job creator who understands the economy. It's clear to me, and to many of the nation's best job creators, that we need to make an unprecedented change, and we need to make it now. But the establishment isn't willing to take the necessary, bold steps. As president, my first priority will be to implement the big solutions America needs to get back on track. To start, I'd enact the Freedom Dividend: $1,000 a month, no strings attached, for every American 18 and older, paid for by a new tax on the companies benefiting most from automation. Companies like Amazon are paying $0 in taxes; it's no wonder our economy doesn't work for us when the biggest winners aren't paying their fair share.
I'm the father of two young boys. I know the country my sons will grow up in is going to be very different from the one I grew up in, and I want to look back at my life knowing I did everything in my power to create the kind of future our children deserve—one with an America of opportunity, freedom, and equality.
A crisis is underway—we have to work together to stop it, or we risk losing the heart of our country. The stakes have never been higher. Once I understood the magnitude of this problem, and that even our most forward-thinking politicians were not going to take the steps necessary to stem the tide, I had no choice but to act. That's why I'm running for president. 
I urge you to join me. No one else is going to build a better world for us. We're going to have to do it ourselves. Together.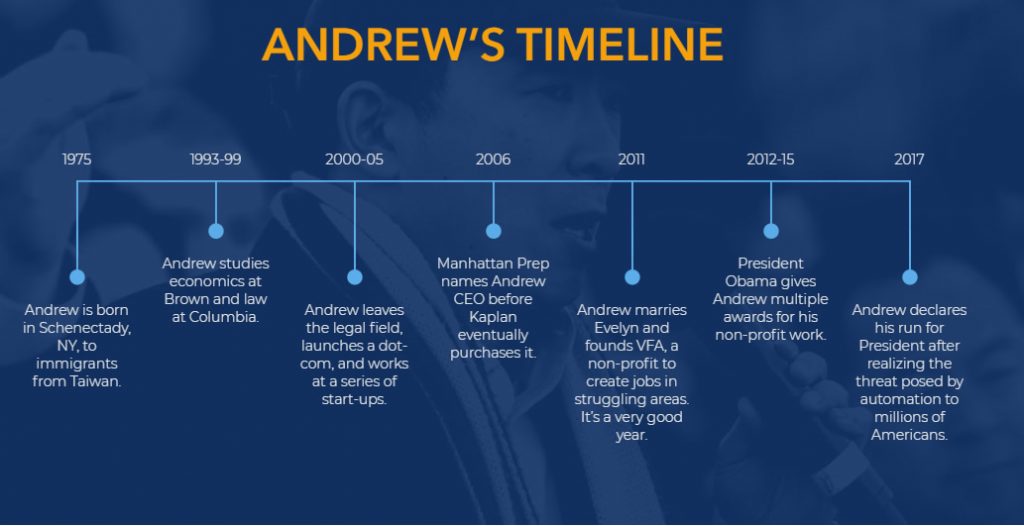 F.A.Q
---
1. What's up with the Freedom Dividend/UBI thing? What are you trying to do here?
I'm literally trying to give everybody money.
Since 2000, technology has replaced the jobs of four million American manufacturing workers and decimated communities throughout the Midwest. With new developments in technology, experts are predicting that one out of three Americans will lose their jobs to new technology in the next twelve years.
Truck driving alone is the most common job in 29 states with 3.5 million drivers – 94 percent of them male – and an additional 12 million workers supporting them in truck stops and motels across the country. What happens when the trucks start to drive themselves?
We are experiencing the greatest economic and technological shift in human history, and our institutions can't keep up. Without the Freedom Dividend, we will see opportunities shrink as more and more work gets performed by software, AI, and robots. Markets don't work well when people don't have any money to spend. The Freedom Dividend is a vital step to helping society transform through the greatest automation wave in human history.
2. Universal Basic Income sounds like a hoax, and other people are just gonna use it for booze, drugs and casino.
The idea of guaranteeing every citizen an income from the government was first recorded during the Renaissance. In America, it was picked up by founding father Thomas Paine, who referred to the payments as a "natural inheritance." UBI and similar cash programs began picking up steam in the mid 20th century during the industrial revolution as early as 1918. With developed countries producing more than ever, the idea resurfaced with intensity being backed by numerous Nobel Prize winning economists such as Milton Friedman and F.A. Hayek.
In the 1960s, Martin Luther King Jr. gave his support, alongside over 1,000 economists from over 125 universities who signed a letter to President Nixon requesting income guarantees. The idea of a guaranteed income was pushed into a bill under President Nixon in 1970 where it passed the United States House of Representatives. It died in the Senate because Democrats sought a higher guaranteed income.
Today the idea has gained support from Mark Zuckerberg, Robert Reich, Elon Musk, Bill Gross, Richard Branson, Ta-Nehisi Coates, Noam Chomsky, and many others. Even more have expressed interest in studying the idea, from former President Obama to the libertarian Cato Institute. Universal basic income is not new – it is an old idea whose time has come.
Here are some of the people who have supported Universal Basic Income over the years:
Martin Luther King Jr., 1967: "I am now convinced that the simplest approach will prove to be the most effective — the solution to poverty is to abolish it directly by a now widely discussed measure: the guaranteed income."
Richard Nixon, August 1969: "What I am proposing is that the Federal Government build a foundation under the income of every American family . . . that cannot care for itself–and wherever in America that family may live."
Milton Friedman (Nobel-winning economist), 1980: "We should replace the ragbag of specific welfare programs with a single comprehensive program of income supplements in cash — a negative income tax . . . which would do more efficiently and humanely what our present welfare system does so inefficiently and inhumanely."
Bernie Sanders, May 2014: "In my view, every American is entitled to at least a minimum standard of living . . .There are different ways to get to that goal, but that's the goal that we should strive to reach."
Barack Obama, October 2016: "as AI gets further incorporated, and the society potentially gets wealthier, the link between production and distribution, how much you work and how much you make, gets further and further attenuated . . . we'll be debating unconditional free money over the next 10 or 20 years."
Elon Musk, February 2017: "I think we'll end up doing universal basic income . . . It's going to be necessary . . .There will be fewer and fewer jobs that a robot cannot do better. I want to be clear. These are not things I wish will happen; these are things I think probably will happen."
Mark Zuckerberg, May 2017: "We should explore . . . universal basic income so that everyone has a cushion to try new ideas."
The data also doesn't show people would spend recklessly with the additional cash on hand. In many of the studies where cash is given to the poor, there has been no increase in drug and alcohol use. In fact, many people use it to try and reduce their alcohol consumption or substance abuse. In Alaska, for example, people regularly put the petroleum dividend they receive from the state in accounts for their children's education.  The idea that poor people will be irresponsible with their money and squander it seems to be a biased stereotype rather than a truth.
Decision-making has been shown to improve when people have greater economic security. Giving people resources will enable them to make better decisions to improve their situation. As Dutch philosopher Rutger Bregman puts it, "Poverty is not a lack of character. It's a lack of cash." 
3. UBI will certainly make people become lazy and not want to work for real money.
Decades of research on cash transfer programs have found that the only people who work fewer hours when given direct cash transfers are new mothers and kids in school. In several studies, high school graduation rates rose. In some cases, people even work more. Quoting a Harvard and MIT study, "we find no effects of [cash] transfers on work behavior."
In our plan, each adult would receive only $12,000 a year. This is barely enough to live on in many places and certainly not enough to afford much in the way of experiences or advancement. To get ahead meaningfully, people will still need to get out there and work.
4. How do you manage to come up with $250B, to pay $1000 for every American citizen over the age of 18, every single month?
It would be easier than you might think. Andrew proposes funding the Freedom Dividend by consolidating some welfare programs and implementing a Value Added Tax of 10 percent. Current welfare and social program beneficiaries would be given a choice between their current benefits or $1,000 cash unconditionally – most would prefer cash with no restriction.
A Value Added Tax (VAT) is a tax on the production of goods or services a business produces. It is a fair tax and it makes it much harder for large corporations, who are experts at hiding profits and income, to avoid paying their fair share. A VAT is nothing new. 160 out of 193 countries in the world already have a Value Added Tax or something similar, including all of Europe which has an average VAT of 20 percent.
The means to pay for the basic income will come from four sources:
1. Current spending: We currently spend between $500 and $600 billion a year on welfare programs, food stamps, disability and the like. This reduces the cost of the Freedom Dividend because people already receiving benefits would have a choice between keeping their current benefits and the $1,000, and would not receive both.
Additionally, we currently spend over 1 trillion dollars on health care, incarceration, homelessness services and the like. We would save $100 – 200+ billion as people would be able to take better care of themselves and avoid the emergency room, jail, and the street and would generally be more functional. The Freedom Dividend would pay for itself by helping people avoid our institutions, which is when our costs shoot up. Some studies have shown that $1 to a poor parent will result in as much as $7 in cost-savings and economic growth.
2. A VAT: Our economy is now incredibly vast at $19 trillion, up $4 trillion in the last 10 years alone. A VAT at half the European level would generate $800 billion in new revenue A VAT will become more and more important as technology improves because you cannot collect income tax from robots or software.
3. New revenue: Putting money into the hands of American consumers would grow the economy. The Roosevelt Institute projected that the economy will grow by approximately $2.5 trillion and create 4.6 million new jobs. This would generate approximately $800 – 900 billion in new revenue from economic growth.
4. Taxes on top earners and pollution: By removing the Social Security cap, implementing a financial transactions tax, and ending the favorable tax treatment for capital gains/carried interest, we can decrease financial speculation while also funding the Freedom Dividend. We can add to that a carbon fee that will be partially dedicated to funding the Freedom Dividend, making up the remaining balance required to cover the cost of this program.
4. So it looks like we're still gonna end up with more tax on everything??
No.
First, not all goods will be subject to the VAT. Staples such as groceries and clothing will be excluded from the VAT.
Second, the assumption that the entire VAT would get passed on to consumers is incorrect. Consumers are price sensitive, and the demand for most goods is at least somewhat elastic. While prices will likely increase on many goods, the increase will, for the most part, be smaller than the VAT as producers find more efficient ways to produce goods and adjust prices to maximize profitability.
Finally, an individual would have to buy a lot of non-exempt items in order to "cancel out" the value of the UBI. Assuming all goods are subject to a VAT and the entire VAT is passed on to consumers, an individual would have to buy $120,000 worth of items before the extra costs associated with a VAT "use up" their UBI. As stated above, those two assumptions are wrong, and most people aren't spending nearly that much money.
5. Aren't you just an one-trick pony with the UBI the only highlighted policy for your campaign?
Andrew is talking about what's COMING and what to DO about it, instead of what's BEEN and how to FEEL about it." —a 61 year old first time volunteer for a political campaign.
Andrew Yang has over 150 comprehensive policies that provides clear, solid answers to many issues our country is facing for the last decades. Many of them are backed with real research data or with significant inputs from professionals of their fields.
6. Ok, I understand that Andrew Yang got a lot of ideas here. But how can I even be sure this man will be able to get these policies executed to fruitfulness?
"Climb to the hilltop and tell others behind us what we see. And build a society we want on the other side. The rest of you get up, its time to go. What makes you human. The better world is still possible . Come fight with me." — War on Normal People, book by Andrew Yang.
These policies won't have the first chance to happen if everyone has this mentality. The mentality of "I like him and he's a good guy, but he won't win", "It's a long shot", or "He got a point but I'll never vote for a democrat".
In fact don't be afraid to stand up –don't vote for whom you think will win, but vote for the one you want to win. This time and the first time, it isn't left or right. It is Forward.
The country has been divided for too long between parties, now we have the opportunity to reunite and make the better world for our next generations. Fight to make your voice heard, fight like the HK protester who wished their country had the freedom that we have, fight to be the better person.
Then when we looked back to the year of 2020 from the future, we can proudly say, we made history.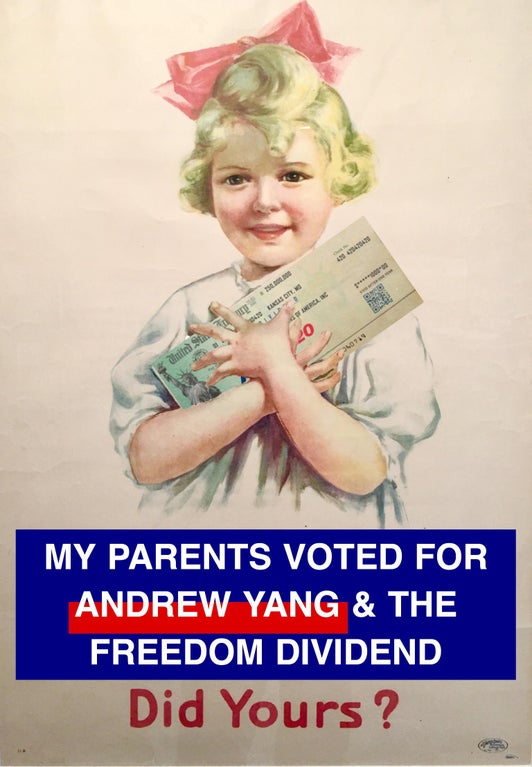 7. How can I learn more about Andrew Yang? Where can I participate in this community #YangGang?
By putting Humanity First, the #YangGang is known to be one of the nicest supporters of a presidential campaign. They can be found on Facebook or Reddit.
You can also watch these unbiased interviews where the host grilled and challenged Andrew Yang on very tough topics and his own policies.
---
---
---